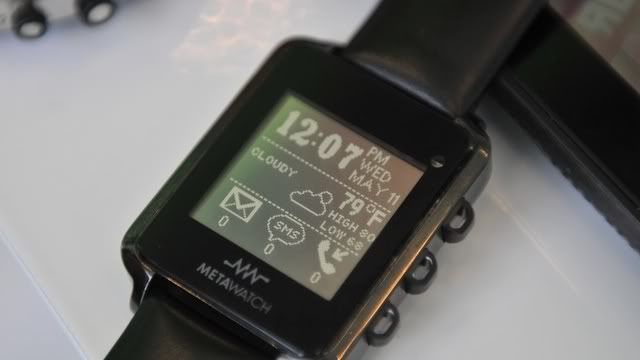 With smartphones becoming ubiquitous fewer people choose to wear watches. The sole purpose of a watch is to tell the time, and if there is an equally capable device of doing so already on your person the usefulness of wearing a redundant gadget diminishes. In fact for most people today wearing a watch is merely a fashion statement.
Not so, says Fossil the creators of the Metawatch. No longer will the watch be a footnote in the annals of tech history.
New text messages, emails, appointments, tweets, Facebook updates, etc. all require you to pull your smart phone out of your pocket. However, the Metawatch will solve this and the watch crisis by sending your smartphone notifications straight to your wrist via Bluetooth.
The limits of the Metawatch has not yet been fully explored with Fossil pushing developers to create new and innovative apps for its new platform. The dev kit is open source so the possibilities of hooking the watch up wirelessly to your Android tablet or phone is virtually limitless. Imagine having a secondary screen to look at while you type something on your phone or reading off contact information from your wrist while you carry on a conversation.
The watch comes in two configurations:
a classic analogue/digital combination with two OLED screens for displaying info, and
a fully digitally one with an always-on screen
Both watches come with Bluetooth, an accelerometer, ambient light sensor, and a rechargeable battery. You can pre-order either today for $200 and it will ship on June 30.